Scott covert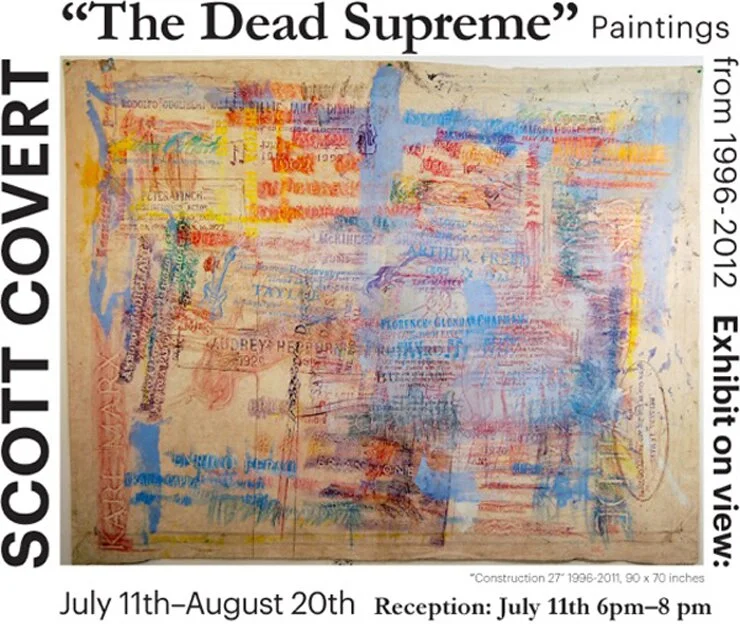 Scott Covert
Once in his outdoor studio, the artist sets to work, prepping the fabric, placing it over the gravestones, and, using an oil or wax crayon, impulsively adorning the canvas with his subjects' engraved in memoria. In piquant counterpoint to the 80s graffiti art practiced by his friends Jean-Michel Basquiat and Keith Haring, the artist does not leave a mark behind, but ather leaves with it.
Each brushstroke is a life, as Scott says. At times, one subject's inscription will be repeated on a single canvas; other times, an inscription will be placed on a canvas in an impulsive collage of diverse personalities' names, in varied colors and textures, producing a palimpsest for the viewer to explore and decipher.
Scott's aesthetic choices convey the impulsive immediacy, directness and impact of Abstract Expressionism. As the gallerist Patrick Fox observes, Scott is the first artist to conjoin the prima materia of Pop Art—celebrity, notoriety and glamour—with the subterranean, unconscious rumblings of Abstract Expressionism. As the singer Patti Smith reminds us, "We are all Pollock's children." And we might add, Andy's.
Through his singular process and uncanny work, Scott engages in a kind of ontological alchemy. The grave no longer marks the end, but the beginning of a new journey for his starry subjects. In the enchanted realm of Scott's paintings, the dead come to glorious life, galvanized into celestial dancing partners with others from the necropolitan galaxy— Dancing with the Stars, you might say.
Scott's first grave rubbing was of Florence Ballard (1943-1976), one of the original Supremes of Motown legend, who received Scott at her resting place at Detroit Memorial Park Cemetery in Warren, Michigan. Ever since, Scott has identified his school as "The Dead Supreme."
When Cookie Mueller, the art critic, muse and downtown doyenne, saw the resulting artwork, she convinced Scott that he had found his métier. Rene Ricard, the art world avatar, gave Scott another piece of advice: "A painting should be a beautiful, entertaining thing to put on the wall."
"My work has nothing to do with death," Scott is quick to remind us. "It's not morbid: it's a celebration of life." He adds, "I'm not about looking back, or even looking forward. I don't have time for that. I'm all about right now." And right now just happens to be the very moment we encounter Scott's paintings.