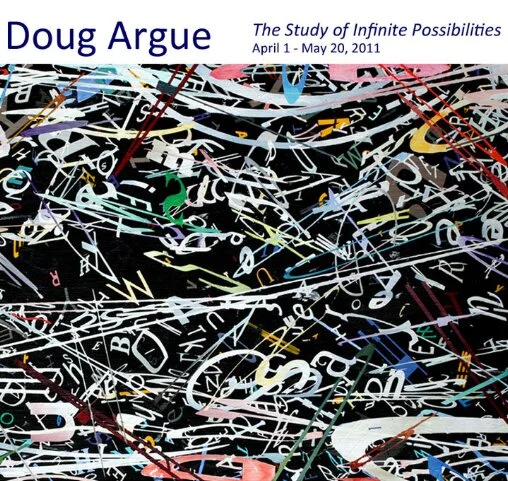 Doug Argue explores infinite time and space in his painting by fusing abstraction with math, science and the anthropology of language. The results are momentous, ethereal, visceral-bordering on spiritual. Argue embraces the tradition of painting while employing modern concepts of realism, abstraction, and expressionism. Edelman Arts is pleased to present his first solo exhibition in New York in more than 10 years, on view April 1 – May 20, 2011.
Influenced by Tintoretto, along with Einstein and Pythagoras, Argue has spent his career focusing on the formal qualities of painting while eschewing classical or traditional subject matter. Using various techniques, including those employed by Renaissance painters, Argue has created conceptual and monumental paintings of tires, books and chickens on a scale traditionally reserved for history painting. His new body of work presents a move toward abstraction while continuing this exploration.
Argue has developed a way of communicating that seems far superior and more universal than traditional language. The foundation of his work is the concept that all life forms on earth likely had one progenitor; and that one language evolved into the thousands that now exist. Through a combination of purpose and chance genes and language are in a constant state of flux providing almost infinite possibilities of recombination. His work embodies all the questions one might contemplate, and yields all the answers the viewer chooses to see.
Argue's work is represented in numerous public collections including the Walker Art Center, Minnesota Museum for American Art, Weisman Museum, Minneapolis Institute of Arts and the Grand Rapids Art Museum. Argue has also been the recipient of many awards including a National Endowment for the Arts Fellowship, the Rome Prize, a Bush Foundation Fellowship and a Pollock Krasner Grant.
This exhibition is curated and in conjunction with Edelman Arts www.edelmanarts.com For more information contact: T 212-472-7770
For comments and to send a message please email